EXCEL Award Win Inspires Us to Think Bigger and Bolder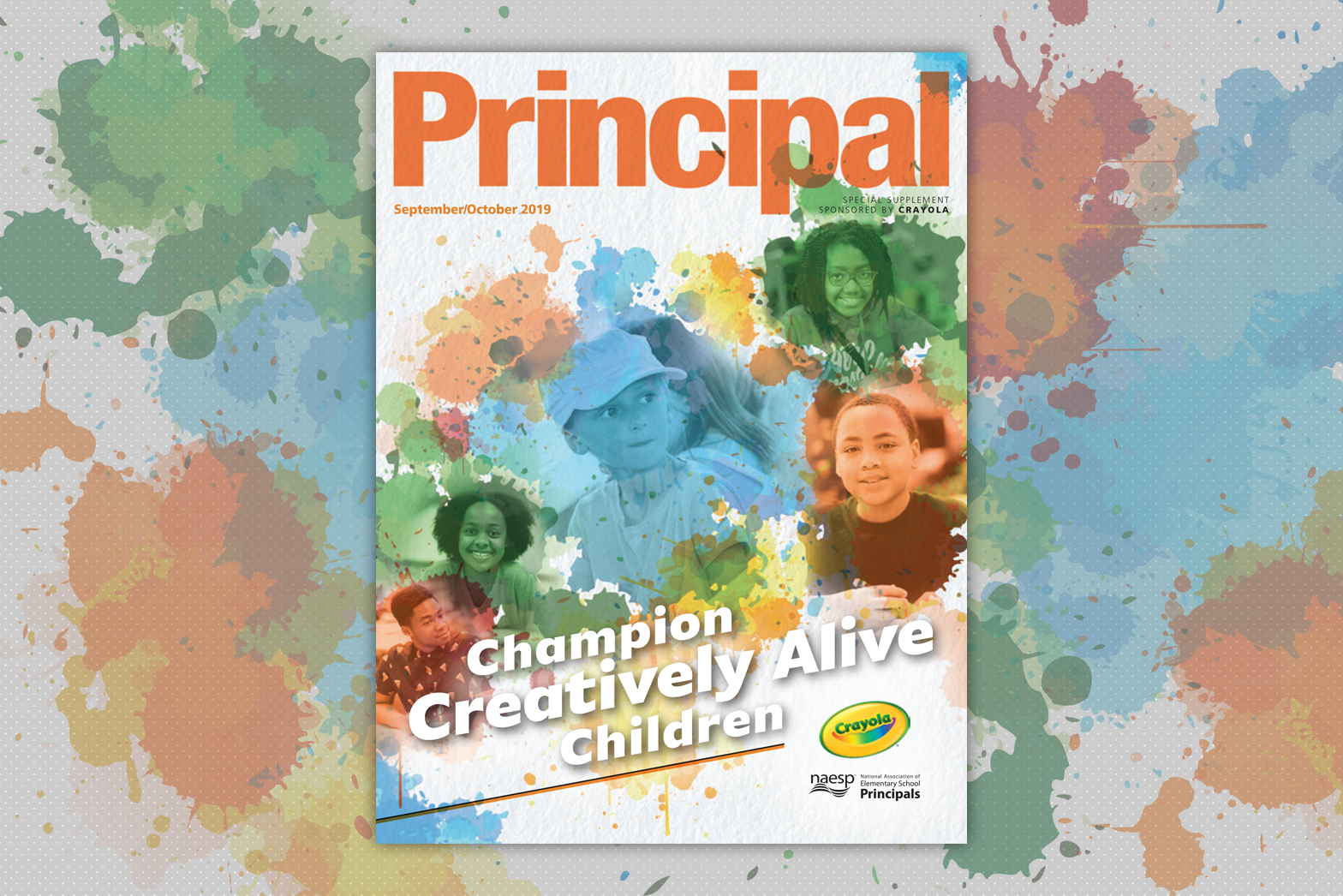 NAESP and Crayola have collaborated for nine years to support art-infused education through the Champion Creatively Alive Children Grant. The grant program provided funding annually to 20 schools so they could implement an innovative program that would increase arts integration across multiple subjects and teach children the four Cs: communication, collaboration, critical thinking, and creativity.
NAESP and Crayola also teamed up to develop the Champion Creatively Alive Children supplement to NAESP's award-winning magazine Principal. YGS proudly partook in this meaningful collaboration by designing and editing the supplemental publication of approximately 28 pages, the most recent of which was delivered with the 2019 September/October issue. The supplement featured the latest research, best practices, and project ideas from grant-winning schools, and developing design concepts for the accompaniment was an exciting process.
"We looked forward to this project every year," says YGS Art Director Zon Buckley. Describing the process, he explains, "Each year, we excitedly received a box of 'inspiration' containing paint, brushes, markers, and more from Crayola. Playing with these items was not only fun; it also sparked aesthetic direction for the look and feel of the supplement." Buckley notes YGS art directors and graphic designers, "discovered usable patterns, shapes, and techniques while experimenting with these supplies. We then determined how to incorporate them into the printed piece—for example, by matching colors from the product lines and using them to guide readers through the supplement. Sometimes the playing got a bit messy," Buckley admits, "but the beauty of the Crayola brand is the creative freedom it affords."
Collaborating with NAESP and Crayola to support education that fosters skills students need to understand our increasingly interconnected world and thrive as 21st-century citizens was satisfying enough. But YGS and NAESP were overjoyed to take things up a notch by receiving a 2020 Silver EXCEL Award for Special Report (Print) for the Champion Creatively Alive Children arts supplement from Association Media and Publishing. AM&P's EXCEL Awards recognize excellence and leadership in association media, publishing, marketing, and communications. The competition is open to nonprofit and for-profit associations, as well as industry service partners submitting on behalf of association clients. Receiving an EXCEL Award is not only an industry honor—it's a testament to talent and dedication to our clients' success.
YGS is committed to ensuring our clients and their projects are among the best around, and we are honored whenever our work is evaluated among other outstanding projects in this great profession. We're proud we had a hand in inspiring the future and bringing people closer together through collaboration. We appreciated the opportunity to support NAESP and the communities the association serves, and we were thrilled to have our commitment to excellence reaffirmed through this prestigious recognition. Congrats to all the winners!
Interested in shifting your visual presence into high gear? Get in touch with us today!