Featured
Print
Publications
The Print Terms You Need to Know
Notice
: Trying to get property 'ID' of non-object in
/var/www/html/wp-content/themes/ygssite/single-associationconnect.php
on line
98
Notice
: Trying to get property 'ID' of non-object in
/var/www/html/wp-content/themes/ygssite/single-associationconnect.php
on line
99
Notice
: Trying to get property 'ID' of non-object in
/var/www/html/wp-content/themes/ygssite/single-associationconnect.php
on line
101
Notice
: Trying to get property 'ID' of non-object in
/var/www/html/wp-content/themes/ygssite/single-associationconnect.php
on line
102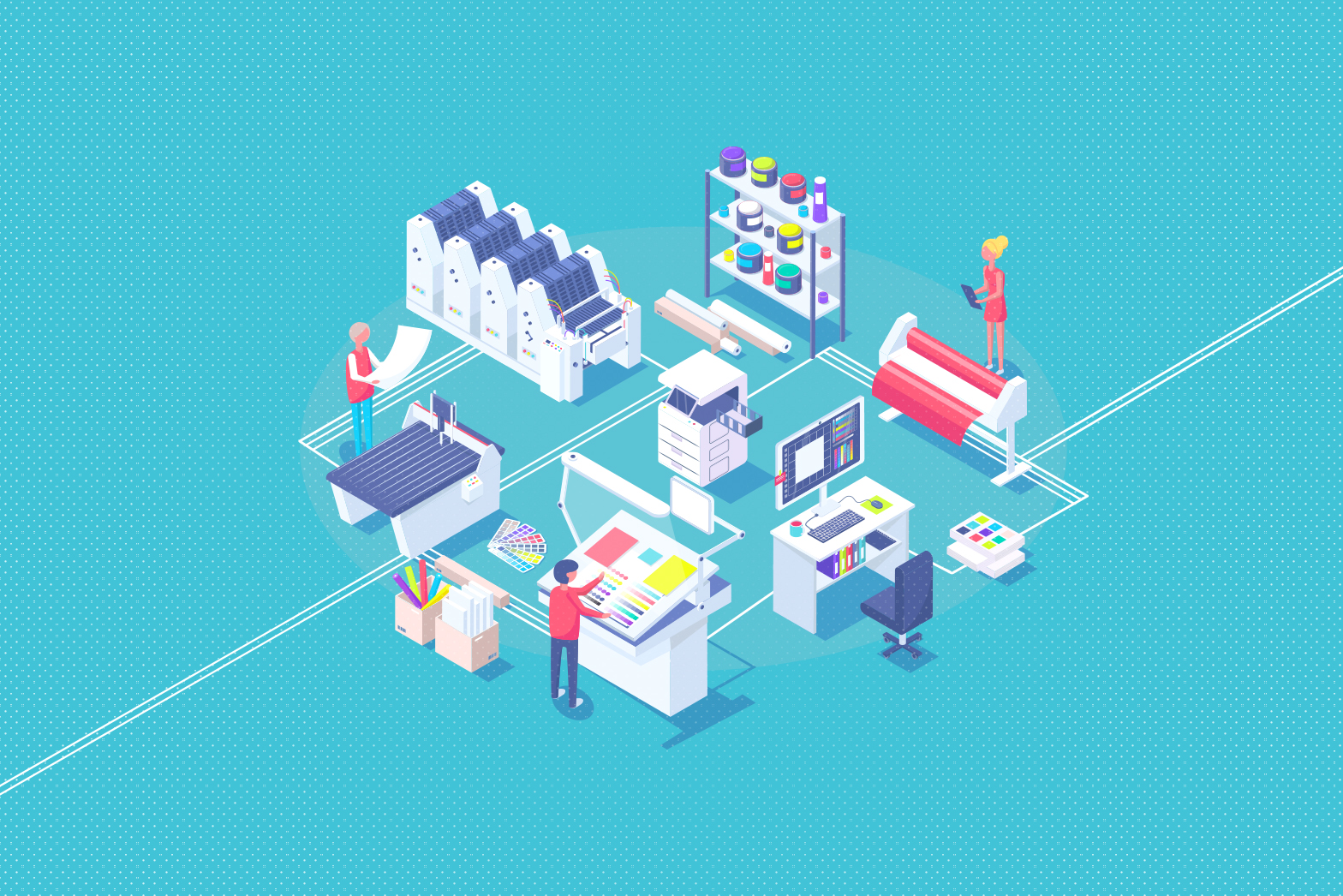 When it comes to print terminology, there are a lot of words to know. So many, in fact, that you likely don't need to know all of them in order to make informed decisions about printing techniques for your association's magazine or other printed materials.
Here are some of the key terms to know, and the applications where they might be most appropriately used. Familiarizing yourself with this language will help you understand the options for your printed materials and more effectively communicate with your account manager or sales representative to get the end result you want—whether that's creating something brand new or jazzing up your existing member offerings.
Press Types
Offset vs. Digital: Both offset and digital printing presses produce high-quality results that can be color-matched for consistent branding. Additionally, a variety of substrates (materials) can be used on either type of machine. The main factor in determining which press is most appropriate for a job is the quantity or size of the job.
Offset: Also called "lithography," offset printing is when large aluminum plates transfer an image onto a rubber "blanket" that is then transferred onto a sheet of paper. Offset requires a longer production time but is the best option for large jobs.

When to use it: Offset can be more cost-effective for large jobs. In some cases, large sheets (for larger signatures) won't even fit on a digital platform, making offset the only option.

Digital: Digital presses function more like an ink-jet printer. While digital presses used to produce lower quality results, the new HP Indigo presses are dot-structured like an offset, so you no longer sacrifice quality when you opt for a digital print. There are also digital presses with scanners incorporated for accurate color matching. And because they're digital, they function well with custom lists of information, such as addresses, names, or codes. Digital prints can be produced quickly and are often more appropriate for small jobs.

When to use it: Ideal for small runs, quick turnaround work, or when variable data is needed.
Specialty Graphics and Wide-Format
Specialty Graphics: At YGS, specialty graphics covers a wide range of products that can be printed on a variety of substrates. Some examples include signage, banners, and even vinyl wraps for floors, walls, or windows.

When to use it: Great for conference or event displays, seasonal displays, storefront branding, or eye-catching signage around the office.

Wide-Format: This is a type of specialty graphic that is classified as anything printed on a large scale. The maximum size is 8.8′ x 10′ for rigid substrates and 82″ for roll-fed substrates. Anything larger than that can be pieced together during installation.

When to use it: While specialty graphics themselves can be as small as a window cling or magnet, wide-format is most appropriate for banners, signs, or wall coverings.
Material Terms
Substrate: Any surface or material that is printed on.
Bulk/Caliber: Thickness of paper (or other substrate) relative to its weight defined in the following measurements:

Thousandths of an inch (mils or points)

Thousandths of a millimeter (microns)

Pages per centimeter (ppc)

Text weight: A thinner caliber paper predominantly used for magazine pages, flyers, brochures, etc.
Cover weight: Thicker paper that can be used for book/magazine covers, post cards, pocket folders, etc.
Coated vs. Uncoated Paper: Paper comes from the manufacturer either coated or uncoated.

Coated Paper: Paper that is manufactured with a coating of clay or other substance that improves reflectivity and ink holdout. Coated paper offers excellent color, smoothness, print definition, and opacity, and is available in different sheen options. Some of the most common finishes are:

Gloss: shiny appearance for crisp graphics.

Matte/silk: a less-reflective surface for easier reading.

Uncoated Paper: Paper with a raw finish that is manufactured without any coating. Also known as offset paper, this stock has a more natural look for printing and is commonly used for books, letterheads, envelopes, notepads, and many other products.
Embellishments
Effects that are added during the printing process, including foil-stamping, embossing, and spot UV coating.
Finishes: Finishes are applied to printed products to enhance the printed piece by making them more durable, elegant, or to highlight an area that catches a reader's attention. Finishes can add a glossy, silk, or matte effect. Finishes can be added for protection or to enhance the end result of the product.

UV Coating: A liquid resin that provides protection with a high gloss or matte finish coating. This can be applied as a flood coating to enhance the entire sheet or as a spot coating to bring the reader's eye to a specific image. This technique is applied using a special machine and cannot be applied on a regular press.

Film Lamination: A thin transparent plastic sheet coating that is applied as full coverage to a thick stock to provide protection from liquids and heavy use. There are different types of laminations available that range from glossy to matte finishes. Some laminations can offer a textured feel, giving a tactile appeal. These are applied with an off-line machine and must cover the whole page (cannot be spot applied).

Aqueous: A liquid coating done on the offset printing press itself. This coating floods the entire page and can be done in gloss, silk, or matte.
Embossing: A technique of pressing into paper to create a raised image. This technique can be combined with foil (known as foil embossing), which presses a metallic coating onto an image or word, so that it stands out in its texture, color, and sheen.

When to use it: Embossing works great for putting logos or other graphic emblems on cover-weight paper. It can also be used to add a textural element to words on direct mail pieces or other items that would use a thick paper.

Die Cutting: Cutting a shape or pattern into paper to enhance the end result of the product.

When to use it: Die cutting can be a fun design element to add interest to postcards other promotional materials printed on cover weight. It's commonly used for pocket folders and brochures or items that need to be cut, folded, and assembled together.
Magazine Assembly
Signature: A single sheet of paper that is printed front and back, then folded to become a series of paginated pages of a book or magazine, usually in multiples of four.
Perfect Bound: A type of binding that uses glue and a flat spine that can be printed on. It's most appropriate for thicker magazines with many pages.
Saddle Stitch: When a magazine is bound with staples along the fold. This style can't have printing on the spine and is best for shorter magazines.
Shrink Wrap: A thin gauge of clear film that is shrunk tight around something to:

Protect the printed product

Collate sets, such as notecards or books held together in sets of 10, etc.

Polybagged: When a magazine is wrapped in clear plastic for mail. This technique protects the magazine and is perfect for keeping inserts or other loose pieces intact. It uses a thicker gauge, heavier plastic that's approved for mailing.
Belly Band: A narrow slip of paper that is wrapped around the outside of a magazine. These are typically used as advertising space but can also be used to bring attention to a key piece of information that is found inside the book.
There you have it! This quick guide to print terms will help you understand the differences between techniques, when they're most useful, and how they can apply to your printed communications materials.
If you'd like to learn more about any of the options listed in this article, reach out to us!