The YGS Group Upgrades Digital Operations with HP Indigo 12000HD Press and Site Flow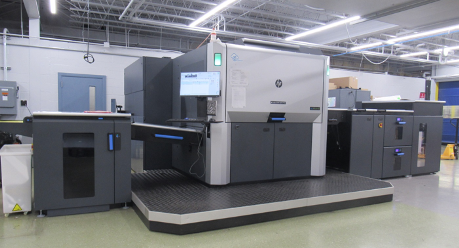 We are thrilled to have the new HP Indigo 12000 HD press at our York facility. And HP has been a tremendous partner to us by promoting this newest printing upgrade through the press release included below. We hope you enjoy reading it!
_______________________________________________________________________________________
The YGS Group, a full-service communications company specializing in commercial printing, has adopted the advanced HP Indigo 12000 HD Digital Press and HP PrintOS Site Flow automation solutions to drive more sophisticated services and higher-impact print.
Operating from its headquarters in York, PA, YGS supplies full communications solutions for large-scale national clients such as associations, corporations, and publishers, using its digital print solutions to deliver strategically tailored content such as association magazines and print pieces with variable data.
A user of several generations of HP Indigo digital presses, YGS is taking a step up with the higher capacity, throughput, and high-definition printing delivered by the 29-inch HP Indigo 12000 HD, with the addition of an HP Indigo 15K value pack.
"We are huge fans of Indigo print quality and continue to embrace any new technology that enhances the quality of the print and the process to deliver the best possible products to our customers," says Mark Ploucha, vice president, production solutions, The YGS Group.
YGS clients enjoy full design, content, print, and fulfilment services under one roof, enabling the timely and cost-effective launch of communication initatives from concept to in-market deployment. In addition, YGS offers tailored technology solutions for clients and their sales teams, brokers and agents to gain direct access to order inventoried and customized collateral.
The HP Indigo 15K digital press and 15K value pack for HP Indigo 12000 are raising the bar for B2 format printing with new high definition HD print modes, support for thicker substrates up to 24 pt (600 microns), and new high-value, high-impact inks such as premium white and security inks. These offset look and feel presses are now surpassing offset quality with high LPI screens and the new FM print mode that pushes HD imaging technology to its sharpest, smoothest, most detailed image quality.
"Print is a great hand-held medium to get in front of decision-makers, and pairing those printed pieces with digital content makes it possible to create campaigns that maximize impact," says Jessica Price, managing editor at YGS.
In addition, YGS is rolling out HP's advanced print automation solution, HP PrintOS Site Flow, to fully automate the ordering, printing and fulfilment process through the storefronts. Site Flow enables print service providers to automate production of thousands of orders per day through automatic order submission, pre-flight, imposition, barcoding, printing, and shipping to customers.
"The automation of storefront to press is a huge advantage that streamlines the process for our clients and reduces direct delivery time to customers," notes Ploucha.